Introduction
Data Conversion is a very important factor of efficiency in the successful and smooth functioning of many businesses in this age of information. Businesses not only function effectively by having easy access to data but also save a considerable amount of time and money.
Keyoung helps a wide range of clients worldwide by providing comprehensive solutions to their data conversion requirements. We convert their unstructured data into a variety of useful digital formats with the help of leading-edge technologies and highly skilled staff. Data is captured from all types of handwritten forms accurately, quickly, and cost-effectively. Extensive experience in the industry enables us to leap forward with confidence to meet your data conversion needs, no matter how complex or voluminous it is.
Scope
Typical Data Conversion Services Include: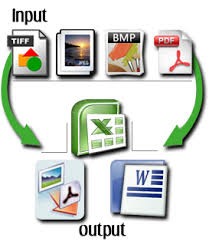 Data Conversion
File Conversion
OCR / ICR Clean up, OMR
Scanning from Hard Copies
Indexing
Archiving
Data Capture
Digital Imaging
Catalog Conversion
Electronic Document Management
Data Entry
Workflow
We can convert your files from one format to another. This can help in making your data accessible to different people and organizations for different applications. Data generated for one application can be transferred and used for another application. This will allow you to use the same data for different applications.
Files can be sent to us through FTP, e-mail, on CD-ROM or DVD. We shall return them to you in any of the desired media. We can deliver data In any of the following structured file formats, once the data conversion process is over:
Microsoft Word
Database
ASCII
Binary
Microsoft Access
Microsoft Excel
PDF
HTML
XML
SGML
The final output can be delivered to you as an e-mail attachment, in DVD, CD or directly uploaded through the secure FTP server.
We work with standard formats as well as unique or non-standard formats. Convert your data into a powerful management resource. Save your valuable data stored and accumulated over the years in the form of paper files or reports, before it gets lost irrecoverably. Exploit the infinite potential of Data Conversion technologies at a lower cost.
We convert your unstructured data into a useful digital format that conforms to your specifications and schedule by leveraging leading-edge technologies and skilled staff. It can be converted or duplicated through file conversion, media conversion, and tape conversion. Conversions can be performed from one type of media to another.