Introduction
Basic Data Entry is an operation which can be crucial to the business workflow but can be very costly when performed in-house. Our expert staff provides high-quality Data Entry with up to 99.95% accuracy level. Our production centers supported by typists, checkers, analysts, programmers and project managers that can all be arranged to work efficiently to process data for our customers from any time zone.
We convert your paper, form, book or old computer files into organized useful digital information. With over 20 years of experience in Data Processing Industry, we have the capacity and expertise to process any type of Data, Typed or Handwritten, to and from any format. We have invested consistently not only in operators training but also in Validation and Quality Control Processes. All these guarantee us to provide the highest of quality for all Data processed.
Outsource your data entry tasks will empower you to run your business operations efficiently at low cost. So now you can utilize your resources, maximize your time, and move forward with your core business activities that affect the bottom line.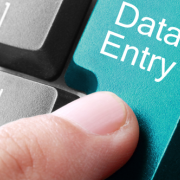 Scope
(1) Key-From-Paper Data Entry
(2) Key-From-Image Data Entry
Examples
(1) Application forms (Credit Card, Sales Draft, Cancellation Letters, Personal Loan, School Admission Exercise, etc.)
(2) Survey / Research Forms
(3) Warranty Cards / Customer Satisfaction Cards / Registration Cards / Rebate forms / Coupons
(4) Questionnaires Data Entry & Document Conversion Cycle
(5) Test Papers
(6) Business Directories / Yellow Pages / White Pages
(7) Mailing Lists / Telephone Lists
(8) Catalogues / Manuals
(9) Library Records
(10) Government Records
(11) Inventories
(12) Archived Files
(13) Legal Files
(14) Product Inquiry Cards
(15) Order Forms and many more…